New Zealand Workplace Health & Safety Awards
Winners announced!
The Observer Services group within Fisheries New Zealand has taken overall honours at this year's New Zealand Workplace Health and Safety Awards.
The awards were presented at a gala dinner at the Cordis in Auckland on 1st June.
Since their inception the awards have become established as an annual highlight for everyone involved in the prevention of work injury and ill-health.
The winners are:
The WorkSafe New Zealand/ACC best overall contribution to improving workplace health and safety in New Zealand
Observer Services, Fisheries New Zealand
SAFETY: Dentons Kensington Swan best initiative to address a work-related safety risk
Road Science
Technical staff who work in the road corridor are at risk of being struck by vehicles. Adopting and adapting new technologies has reduced their exposure by 90%.
HEALTH: WorkSafe New Zealand best initiative to address a work-related health risk
NZ Engineered Stone Advisory Group
Workers who make fashionable engineered stone benchtops are at risk of accelerated silicosis. NZESAG's accreditation programme and good practice guide helps engineered stone fabricators to address the issue.
WELLBEING: Vitae best initiative to promote better worker wellbeing
Kāinga Ora
The Wā Manaaki programme of professional supervision enables staff in challenging roles to have regular opportunities to connect with a qualified external person to reflect on their work.
ENGAGEMENT: NZ Safety Blackwoods best initiative to encourage worker engagement in health & safety
Observer Services, Fisheries New Zealand
A change in the employment relationship, along with a pre-placement assessment to understand the risks on a vessel, and a post-trip debriefing to feed into the next trip, has boosted incident and near miss reporting.
INNOVATION: Anthony Harper best use of innovative New Zealand design/technology to eliminate or manage a risk
ElectroNet Group
Developed software to detect conductor-down situations and automatically trip the power until a crew arrives, applying an effective control to a potentially fatal risk to the public.
SMALL BUSINESS: Site Safe New Zealand best health & safety initiative by a small business
Rabo Construct
Uses a health and safety in design approach to refine its risk assessments, so that its designers are now pointing out potential health and safety implications early in the process.
COLLABORATION: IMPAC best collaboration between PCBUs
C3 Limited
The removal of 40,000 tonnes of fumigated logs from a damaged vessel to another required coordination with many PCBUs and was completed without incident or injury.
GOVERNANCE: Simpson Grierson best governance level engagement in health & safety
Government Health & Safety Lead and Manawatū District Council (joint winners)
The GHSL collaborated on the development of an Officer Development Programme which recognised the unique nature of governance in a public sector setting.
The Manawatū District Council developed a due diligence plan of unusual clarity which also includes elected members, with significant input from health & safety reps.
LEADERSHIP: ACC best leadership of an industry sector or region
Government Health & Safety Lead
Its successful health & safety intern programme across the public sector introduces young people to health & safety who may never have considered it as a career.
PRACTITIONER: NZISM health and safety practitioner of the year
Duayne Cloke, Waka Kotahi NZTA
Is leading significant change to how temporary traffic management is carried out across the country, which will see a move to a risk-based approach and other fundamental changes.
EMERGING PRACTITIONER: edenfx emerging practitioner of the year
Shivashni Singh, Ventia
Champions wide consultation so safe systems of work are created from the ground up, ensuring systems work with people and not against them.
H&S REP: Vero Liability health & safety representative of the year
Uli Thie, Massey University
Influential at multiple levels within the university. Seeks changes to improve the HSR experience, increase their autonomy and to shift their focus onto improving work.
LEADER: Business Leaders' Health & Safety Forum leader of the year
Kate Coley, Waikato District Health Board
Influential through all 20 DHBs as an enabler, connector, and leader of a health & safety benchmarking project and a collaborative agenda to help align the sector's approach.
LIFETIME ACHIEVEMENT: Countdown lifetime achievement award
Paul Jarvie
Recognised for his work to advance the level of professionalism of health and safety practitioners in New Zealand.
JUDGES' COMMENDATIONS: ecoPortal judges' commendation awards went to:
Vibration Action/Jason Johnstone
Jason was diagnosed with hand-arm vibration syndrome. He has invited a practical device to measure a worker's personal exposure to vibration when using powered hand tools.
Forest Industry Safety Council
For its innovative Toroawhi pilot project in which two experienced forestry people are employed as champions of worker engagement in health & safety.
QUESTIONS?
For any awards enquiries please email safeguardawards@thomsonreuters.com
Entry Kit & Entry Forms
WHAT IS THE PURPOSE OF THE AWARDS?
To celebrate the best health and safety initiatives and the dedicated people working to improve health and safety outcomes in New Zealand.
WHO JUDGES THE AWARDS?
The awards are judged by a panel appointed each year. The panel includes representatives from Safeguard, WorkSafe New Zealand, ACC, a union, an experienced health and safety practitioner, and a recent recipient of the Lifetime Achievement Award.
HOW MANY CATEGORIES ARE THERE?
There are 9 categories for organisations and 5 categories for individuals. Details of each category can be found in the entry pack which can be downloaded here.
WHO CAN ENTER?
Any organisation which operates in New Zealand.
Any person who works in New Zealand.
An organisation can submit multiple entries, so long as each entry describes a substantially different health and safety initiative.
KEY DATES
Entries are now closed
Finalists notified: 9 April 2021
Gala dinner: 1 June 2021. Find out more information and book tickets here.
What is the entry process?
Download the entry kit for all the information you need to know including:
Award categories.
How to write an entry for an organisational category or individual category.
How long an entry should be.
How to submit your entry and entry form.
Judging process.
Download the entry form for Cat 1 - 9 (organisational)
Download the entry form for Cat 10-14 (individual)
Lifetime Achievement Award Recipients
2020 Winners
Safety risk - Ixom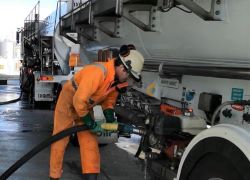 A fleet of tankers delivers acid and alkali solutions around the country. Trainee drivers were coached on the job and had to learn the basics of loading, unloading and equipment handling, while also dealing with the risk of exposure to hazardous chemicals.

A new training facility replicating a client site was built so trainees could practise loading and unloading with tankers filled only with water.

Trainees can now focus on mastering baseline skills without having to worry about being exposed to chemicals.

The new training facility has improved and standardised driver training. Trainees can learn advanced chemical handling techniques such as 'suck outs' in a safe environment, so they are more useful when they go on the job. The time taken to bring a trainee up to standard has been significantly reduced.
Health risk - Fonterra Co-operative Group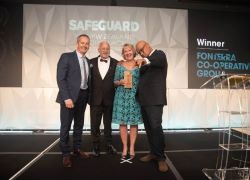 Occupational health nurses felt frustrated that compliance-driven annual staff health monitoring was a one-size-fits-all approach which prevented them from delivering real value.
OHNs were given additional training in leading change on national projects, a strategy which saw a risk-based approach to managing health adopted.
OHNs now tailor health assessments to the individual and have freed up time to create more healthy workplace initiatives.

The role of occupational health nurse has been re-imagined as being a workplace Health Navigator. Each health & wellbeing initiative has an assigned occupational health nurse as project leader, helping to develop nurses' leadership and influencing skills.
​
Promote worker health - Treescape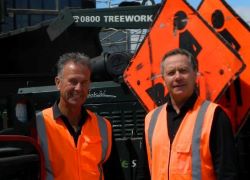 Staff face the risk of hearing loss due to noise exposure when operating chainsaws and chippers, so the company takes special care with PPE, runs workshops and seeks to engineer out noise.
37% of its 140 staff have some level of hearing loss, and the company is aware that people who are deaf or hard of hearing are at particular risk of isolation and depression.
It has developed mental health awareness seminars and has gone out of its way to be a welcoming workplace for those with hearing disability.

The company has partnered with the National Foundation for the Deaf and Hard of Hearing to support those with hearing loss and to raise awareness of the issue across the arborist sector. It also offers apprenticeships to people through the Foundation's youth employment programme.
Worker involvement - Refining NZ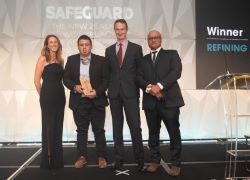 At Marsden Point the safety culture was found to be reactive and disconnected from staff and contractors.
After a presentation by Wiremu and Marcella Edmonds, a group of workers was inspired to create a safety culture based not on compliance but on values.
The global behaviour-based model was replaced with a new model based on Te Ao Māori and incorporating Hauora Kōrero (Safety Talks) and Hauora Hikoi (Safety Walks).

The E Tū Tangata model, created by workers, has created a values-based framework which has united a diverse group of staff and contractors. Some 70 staff and contractors have stepped forward to be trained as coaches and champions of this new approach.
Innovation - Voideck NZ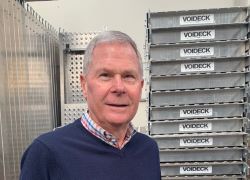 Floor penetrations in multi-storey sites under construction, left for the later installation of stairs or lifts, pose a serious risk of fall from height.
Traditional methods to protect against falls through such voids – temporary handrails, scaffolding and planks – are flawed and leave a significant residual risk.
A new modular suspended working platform design allows a temporary floor to be fitted to the building structure, with an access hatch and ladder.

The void-filling system is adaptable to any shape of void, including those with walls or other protrusions. Being attached to the building structure means areas above and below the void remain accessible, boosting productivity.
Collaboration - Frucor Suntory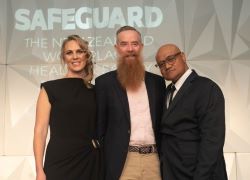 The company realised machinery was its key critical risk, but accepted they didn't know enough about those risks, so asked for external expertise.
That expertise was leveraged into a significant internal collaborative project involving machinery operators, managers and subject matter experts to review risks associated with all machinery.
Dozens of urgent improvement actions were identified across multiple plants and machines.

The company has also developed and run courses on machinery safety for operators, maintenance staff and management. The judges were impressed that it had the courage to initiate an open-ended exploration of machinery safety and to involve so many staff at multiple levels in coming up with solutions.
Leadership - Farmstrong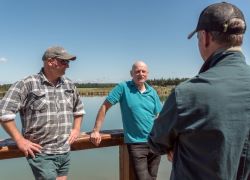 Farmstrong seeks to improve farmer wellbeing through behavioural modelling, as evidence shows farmers will change if they see how other farmers have made changes for the better.
The programme wellbeing improvement ideas and resources in person, at farming events, and online, with 30% of farmers having participated in Farmstrong activities since 2015.
They have gathered statistics which show farmers with higher measures of wellbeing also suffer fewer injuries.

Farmstrong tracks its own progress using a formal framework involving quantitative and qualitative measures. It has become a well-established brand in the rural sector, with 80% of farmers aware of it, including 23% who demonstrated awareness without prompting.
Practitioner - Adele Saunders (St John)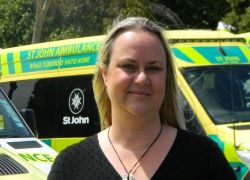 Adele brings a psychologist's perspective to the health, safety & wellbeing team.

She personally supports staff involved in traumatic events such as the Christchurch mosque attacks and the Whakaari/White Island eruption.

Adele's mission is to help build adaptive capacity for staff to be able to dynamically manage risk.

She has built a model of psychological care that has attracted wide attention.

Adele has set up a peer support programme and has trained the first 16 people in an intensive 6-day course. This has proven so successful that staff now opt to talk to peer supporters rather than EAP, and more courses are planned.
Emerging practitioner - Gareth Beck (Aurecon)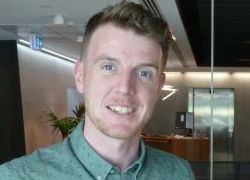 A contaminated land engineer by background, Gareth is studying for a postgraduate diploma in health & safety at Victoria University.
He has created a mental health first aid network around the company's branches and an asbestos handling procedure which is used by the company globally.
He has led a review of temporary traffic management risks and promoted champions around the company to implement it.
He has also started a networking group of younger safety practitioners.

Gareth realised that the health & safety practitioner demographic is skewed to older age ranges, and that this would create a serious supply problem as demand for expertise rose. He formed the Emerging Safety Leaders forum to help establish a solid pipeline of younger people into the profession. This forum is now well established and has run multiple events, in-person and online, with effective social media channels.
Health & safety representative - Chris Gorringe (Department of Corrections)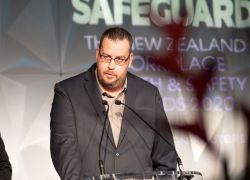 Chris is a Corrections Officer for Corrections. At the new Auckland Prison there were a number of assaults on staff by groups of high-risk prisoners who were able to take control of yards or day rooms due to design faults with doors.
Chris championed the staff view that an engineering design change was required, and after months of delays issued a Provisional Improvement Notice to get door restrictors fitted.
He was part of a working group which agreed on a new door design and eventually saw 60 doors replaced.

Chris's issuing of a PIN amounted to a constructive challenge to his employer, which got the results his peers wanted. He has also been involved in the new build project at Waikeria prison, and in planning the development of a training pathway for health & safety representatives.
Special commendation - Department of Corrections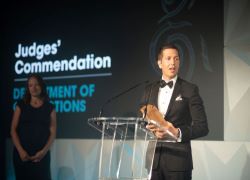 For developing a structured, repeatable deep-dive approach to critical risks. This methodology highly engages senior leaders, guarantees input from frontline staff, and identifies actions which will make the greatest difference. Senior leaders are challenged to express their own beliefs about a critical risk to develop testable hypotheses, which are then tested in a deep dive into the data.
Initial findings from the data analysis are presented to frontline staff so they can provide context and further insights based on their knowledge of work-as-done and can suggest solutions. Results are presented back to the senior leaders
The first data-driven deep dive was on the risk of prisoner-on-staff violence and resulted in unexpected insights and some disproven hypotheses – and, crucially, multiple specific recommendations now implemented.
The judges felt this innovative, evidence-driven and highly engaging methodology could be picked up by other large organisations with significant data pools, or even by whole industry sectors.
Special commendation - Grant Pritchard (Spark New Zealand)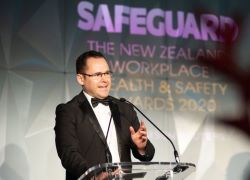 The loss of a workmate to depression and suicide has driven Grant to advocate for mental health at work. At a company conference he facilitated a session on how Spark could become a more mentally healthy workplace.
This session generated a consensus that more could be done and led to Grant's creation of a community of staff who share their stories, ask for help, and help each other. This community now comprises 600 people.
Grant set out a clear vision: for Spark to become New Zealand's most mentally healthy workplace. Supported by a team over 50 volunteers around the country, Grant has created events and roadshows and developed print, online e-learning resources modules in support of mental health.
His infectious enthusiasm and dedication has seen his influence spread far beyond Spark into many other organisations who wish to understand his approach.
Grant is a leader for transformational change in psychological safety at work. His realisation that you can't have high-performing teams without psychological safety has been widely acknowledged.
Overall winner (selected from winners of the Organisational categories) - Farmstrong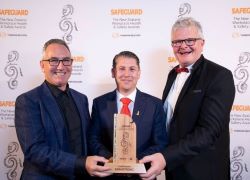 In making this award the judges look for initiatives with the potential to transform health & safety performance beyond the needs of a single organisation. Farmstrong's intense focus on the mental health of the rural community is to be commended, as it seeks to engage with farmers in a relatable and authentic way which a generation ago would have seemed unlikely. The judges also commend Farmstrong's commitment to research, which is generating statistics that are being shared nationally and internationally.