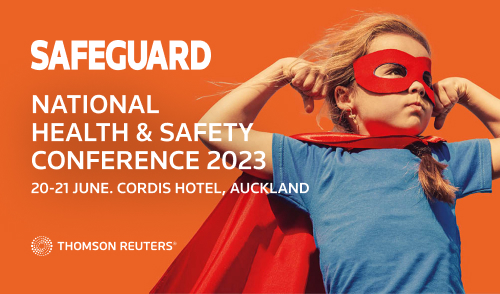 National Health & Safety Conference 2023
Conference
20-21 June 2023

Cordis Hotel, Auckland
Livestream
Post-Conference Workshops
We are excited to bring the health & safety community together for two days of learning and networking at the 2023 Safeguard National Health & Safety Conference.
Join us on 20-21 June as we collectively explore the theme Agents of Change.
Last year's Safeguard Conference was all about reconnecting with each other as the country emerged from Covid-19 restrictions and organisations worked out what the new normal meant operationally. Hence last year's conference theme of Connection – Culture - Care.
This year's conference will address a new challenge: how can people with health & safety responsibility establish themselves as successful change agents within their organisations?
Because addressing work-related risks means collaborating with multiple partners – the workers most of all – to change how work is done.
We look forward to seeing you at the Safeguard National Health & Safety Conference 2023!
Testimonials
"Excellent conference. Keeps getting better and better every year."
"Very well organized. Great reinforcement on how we can continue improving the ways we look after our people and ourselves."
"Really enjoyable and beneficial. Great value add. Learned a lot!"
"Great to have the opportunity to spend time with other H&S professionals."
Group rates available
Accommodation
The Cordis Hotel has offered a special accommodation rate for conference delegates. Here is the link to book directly with the hotel.  If you have any questions regarding your booking please contact the hotel on 09 379 5132.