Throughout my first year at WorkSafe I ran a project that looked at the reality of health and safety representatives (HSRs) in Aotearoa.
I focused on finding 'data with soul' through empathy interviews, meeting with lots of HSRs, and visiting places of work to watch, learn and listen. I met many HSRs and was left inspired by a strong sense of purpose around making things better for their workplace and their co-workers.
I asked Mel Brown, an experienced and well-respected HSR in the meat industry, how we can give the role of HSR more clarity when the responsibilities can be so different from one HSR to the next.
He said the message is simple: "Help in the ways that you can."
I have carried that message forward with me to every HSR that I've spoken to since. In Mel's own words, how much you can help depends on three Cs:
How much you
How much capability you have.
How much capacity you have.
These simple attributes are a useful template when reflecting on your own role as an HSR.
Care, capability, capacity
Our research suggests many HSRs are in their role because they see it as an opportunity to effect positive change for their peers and workplace. HSRs already care. Tick.
I remind HSRs that it's a voluntary role designed to represent the voices of the people around them. HSRs we have spoken to have told us that their role has been frequently misused over many years. Often, leadership asks HSRs to lead health and safety activities that are not their responsibility, but instead the responsibility of team leaders, supervisors, health and safety managers, or even fellow workers.
Newly elected HSRs are entitled to receive formal training, but there is often a delay in getting this. So how does a new HSR know what to do? It's hard. In fact, they only know what they've seen before, which may have been wrong – like HSRs leading H&S audits, compliance checks, or writing Standard Operating Procedures.
If you're somebody who's new in the workforce and you've been elected an HSR, in terms of capability, you're almost better off than someone who has spent years in an organisation which misuses their HSRs.
The last C is capacity. How do you know what you're signing up for? It's a voluntary role, remember? How much you can help depends on your full-time role, and how much time, space, and energy you have left to do the voluntary HSR role. It might vary day-to-day, week-to-week. And it is not the same from one HSR to the next.
Start small, grow tall
My message to new HSRs is to "start small, grow tall."
You found the role because you care. As you become an HSR, all you have to do is care and listen. The role is ultimately a relational role, and relationships take time.
Your aim is to use how much you care and how much you've listened to help influence positive change through your strong relationships with other roles. If workers are the "voices of experience" and leaders are the "voices of intent", then your role is to bridge those through empathy and understanding.
Here's a sketch I made to help an HSR understand their new role: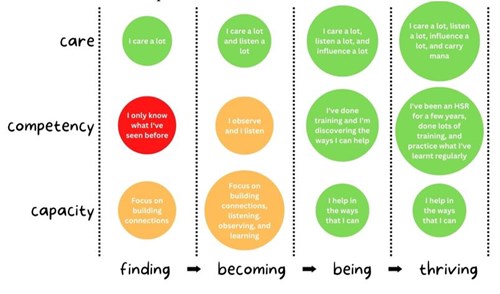 Genuine representation
If you're an HSR, it's not all on you. Representation is included Health and Safety at Work Act because it is seen to be the main way of doing worker participation. Genuine participation, meaning that workers are involved and able to influence, is the end goal.
Large organisations often think that the only thing they need to do is set up HSRs and have Health and Safety Committees (HSCs). Those are both traditional forms of worker participation, but importantly, not the only ones. An organisation should be doing several things to help workers influence the way work is done; toolbox talks, knowledge-based working groups, even a cup of tea and a conversation.
There are heaps of frameworks in leadership language around "participatory management", the most common one being High Performance High Engagement (HPHE), but older ones like Investors in People (IIP), the Vanguard Method, and many more.
Influencing design
For a good leader, allowing workers to influence the design of their work is the smart and common sense thing to do. If you're the CEO of a one-thousand-person company, you'll be aware you couldn't possibly know everything there is to know!
Trouble is, your middle managers may or may not know this. They may be working in a day-to-day reality where they are having to keep up with the KPIs and efficiency measures you've established throughout your organisation.
Inadvertently, they may be trading off meeting the KPIs against the work that it takes to create the space and opportunity to listen intently to the workers, and to understand what the problems and opportunities are.
Therein lies the tension.
Embrace the challenge
So, how do we move forward from basic compliance, with HSRs and HSCs, to an organisation that deeply listens and understand its workers?
Well, it's going to be messy isn't it?
It's not easy. It might feel like handing over power, it might feel like being wrong, and it will definitely feel uncomfortable. Which is why jumping into the uncertainty of a relationship approach might feel like you'll need a parachute on your back – or a 'framework'.
The only thing a good leader really needs is authentic intent. That's the difference between workers hearing the words and seeing the processes, versus experiencing action and feeling heard. It's going to be deeply challenging and chaotic. Embrace it. Relationships, trust, understanding, vulnerability, and culture change take time. Changing our society will take time. In fact, it will take a generation.
To the remarkable HSRs and leaders out there, know that it can be frustrating. Real change is difficult and will feel slow, sometimes like you're getting nowhere. Please continue making a difference for your kaimahi by putting people first in the places where you work.
If you're trying, you're learning, and you will always be making a difference.
What WorkSafe is doing
As the regulator for health and safety at work, WorkSafe acknowledges that HSRs need more support to help navigate challenges in the workplace. We're committed to supporting you to ensure better health outcomes for all kaimahi across Aotearoa.
Through our HSR Voice web page you can sign up to Kanohi Kitea, our HSR newsletter. WorkSafe will provide resources, tools, templates, and guidance especially tailored to HSRs. These will be relevant, easy to understand, and will provide clear direction to support HSRs in creating better health and safety outcomes in the workplace.
Sign-up at www.worksafe.govt.nz/hsr-voice
Ali Whitton is Engagement Lead (for Worker Engagement, Participation, and Representation) with WorkSafe NZ.